MuteTab Browser-wide Granular Sound Management For Google Chrome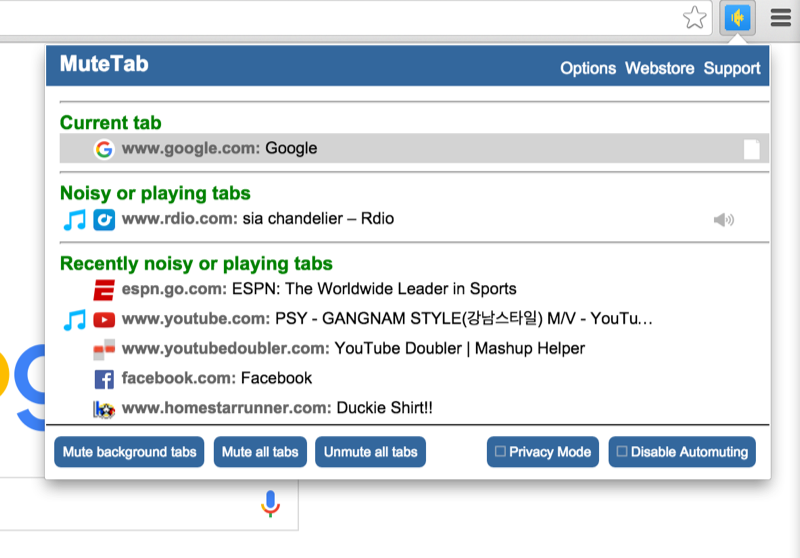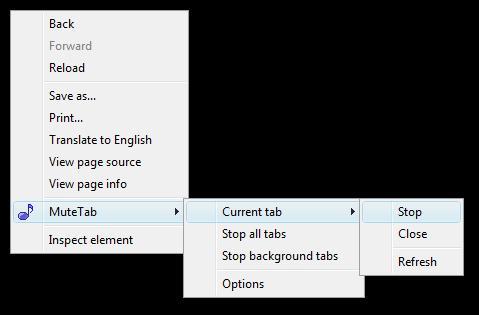 MuteTab is a best effort extension approach to browser sound management for Google Chrome. Written prior to the existence of Chrome's audio indicators.
What this does:
Shows a dropdown list of tabs that might be playing sound (because they include Flash or other sound sources.) Useful beyond indicators if you have a large number of tabs open or if tabs span multiple windows; also provides buttons for pausing/stopping.
Provides a context menu that does the same (but only for current, other, and all tabs.)
Lets you stop or close potentially noisy tabs (or pause if it is YouTube, QuickTime, or HTML5 video.)
Optionally automatically stops background tabs
Limitations:
When you "mute" a tab by stopping it, it makes games and videos unplayable while they are muted.
The dropdown list can grow large, making it hard to narrow down your sound.
Doesn't detect sounds from popup windows or that use Web Audio. Also misses a few other sounds due to bugs.
Doesn't affect tabs open prior to installation of extension.
Automatically stopping background tabs can slow down browser usage due to current implementation (and it misses popup windows / web audio.)
Read the
FAQ
(not updated to reflect Pepper Flash and audio indicators yet) to learn why this is close to the best possible from an extension right now.
Created by
Jared Sohn
. Feel free to contact me with questions or issues (but please try to check the FAQ, documentation, and extension description in the webstore first) at mutetabextension at gmail.com or @mutetab on Twitter.
Also, check out my new project --
mute.fm
-- that pauses your music while you watch videos and restores it afterward.